Hydrogen Peroxide Therapy for Improved Health
Last Modified on Apr 06, 2014
QUICK ACCESS LINKS:
H202 GENERAL USES (ARTICLE)
WHERE TO BUY FOOD GRADE H202

Next to Apple Cider Vinegar, hydrogen peroxide therapy ranks up there as one of the best household remedies.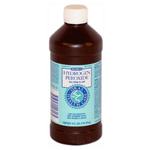 Besides the obvious (cleansing wounds), did you know that hydrogen peroxide (H2O2) is probably the best remedy to dissolve ear wax? Yep, and H2O2 therapy is used around the world to prevent the flu. Athletes also use hydrogen peroxide to build stamina. Additionally, we have received several emailed reports that hydrogen peroxide therapy has cured melanoma, prostate and mesothelioma (asbestos) cancers.
The History of Hydrogen Peroxide Therapy
Ted from Bangkok writes, "Yes, the pharmaceuticals are threatened by hydrogen peroxide cures! Last time, about 120 years ago (during the reign of Queen Victoria), people in India (a British colony then) found that Hydrogen peroxide added in small amounts to drinking water cured a variety of sickness especially colds, flu, cholera, malaria, etc. H2O2 threatened the British monopoly drug sales, so they issued a fake news alert by hiring a news reporter disguised as a doctor to put out the information to the effect that taking hydrogen peroxide causes viral brain damage. It sounded believable, but the child who died of the hydrogen peroxide caused viral brain damage was non-existent.
It worked and the people in India went back to buying British drugs, while suppressing India's own Ayurvedic medicine from any sales. It is amazing that Ayurvedic medicine actually survived under British threat for more than 200 years of occupation!
It has happened during the Queen Victoria era, and now it is happening again. History repeats itself, only this time, we now have the internet, which at least for now, the information is free. No doubt, freedom of information is something we just have to always be vigilant and fight for."
STORING FOOD GRADE H202
9/2/2007: Jake from Chicago, Il writes: "Sara in Atlanta said she stores 35% H2O2 in the freezer. In one manufacturer's write up this is specifically warned against lest it break down. Storage of hydrogen peroxide is recommended in a dark cool place like the refrigerator where the loss of potency per year is minor - according to them about 1% or so per year."

READER FEEDBACK STARTS BELOW:
Please note: All feedback regarding Bill Munro's hydrogen peroxide inhalation method is located the linked page.
POPULAR REMEDIES: